Ecologia Balkanica is an international scientific journal, in which original research articles in various fields of Ecology are published, including ecology and conservation of microorganisms, plants, aquatic and terrestrial animals, physiological ecology, behavioral ecology, population ecology, population genetics, community ecology, plant-animal interactions, ecosystem ecology, parasitology, animal evolution, ecological monitoring and bioindication, landscape and urban ecology, conservation ecology, as well as new methodical contributions in ecology. The journal is dedicated to publish studies conducted on the Balkans and only after the approval of the Editor-In-Chief – other European countries.
The journal is published by the Faculty of Biology at the University of Plovdiv "Paisii Hilendarski". It is distributed as a hard copy (2009-2015) and online (open access) version. Articles are archived and indexed in several major repositories and databases: Scopus, Web Of Science, Index Copernicus and many others.
Manuscripts may be rejected without peer review if they do not comply with the instructions for authors or if editor estimates that they are beyond the scope of the journal.
Ecologia Balkanica follows the standards for Ethics and Publication Malpractice set by the Committee on Publication Ethics (COPE) and guidelines of Open Access Scholarly Publishing Association (OASPA). Conformance to standards of ethical behavior is therefore expected of all parties involved: Authors, Reviewers, Editors, and the Publisher.
Online ISSN: 1313-9940 │ Print ISSN: 1314-0213
From 2016 the journal is published only electronically and hard copies are no longer printed.
From 01.12.2019 the journal implements new article processing fees on all manuscripts, upon acceptance for publication. The journal content is free to access for readers.
The article processing fees are as follows:
– research article – 50€ (for standard article up to 10 pages) + 3€ for each additional page (above 10)
– synopsis – 80€ (for standard article up to 10 pages) + 3€ for each additional page (above 10) 
The fee should be paid after the authors receive confirmation that the article is accepted for publication. Fees are paid via bank transfer, using the following information:
Ecotechnologii'21, 24 Tzar Assen Str. Plovdiv, BULGARIA
IBAN BG76UNCR70001520840556, SWIFT CODE: UNCRBGSF
UNICREDIT BULBANK – PLOVDIV, 24 Tzar Assen Str.
About: ECOLOGIA BALKANICA
Periodicity: Semiannual (June and December). │ Language: English
Abstracting & Coverage: see complete list here.
E-mail: [email protected]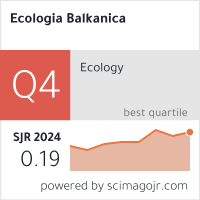 This work is licensed under a Creative Commons Attribution-NonCommercial-NoDerivatives 4.0 International License.